It's Random Thoughts Thursday! My favorite blogging day of the week! Hooray! I just finished constructing the most convoluted deal structure diagram in history, so I'm rewarding myself with some lunch-break blogging. Enjoy!
WARNING:
Topics discussed below will likely have no cohesive theme or, for that matter, make much sense at all. Read at your own risk.
---
Rachael Flatt
I know her performance didn't touch Kim Yu-Na's (South Korea), who broke all world records with her nearly flawless short program on Tuesday night, but I can't get over Rachael Flatt (USA). I mean, really. Watch her
SHORT PROGRAM
and tell me she isn't absolutely adorable. This could likely be the first year since 1968 that an American lady hasn't graced the podium in women's figure skating, but it won't be for lack of enthusiasm or theatrics. I know there were mistakes, but I really just
enjoyed
watching this kid skate. And I'm excited to see her "go long" tonight. Don't forget to tune in!
The Itchy and Scratchy Show
Rupert has recovered from his bath, and is now shiny and soft. But, he continues to both itch and scratch. He learned how to take off his shirt, and he ripped holes in the E-collar, so we're back to just letting him run free and scratch himself to his heart's content. He sees a dermatologist on Monday. Seriously. A dermatologist. For a CAT.
I
can't even afford to go to the dermatologist for myself! But, I'm going to drop a cool $400 on the Rupster. I've lost my mind. And he's insanely spoiled.
Have I mentioned that I loathe mandatory overtime?
My eShakti.com dresses arrived, and I am DELIGHTED to say that they are absolutely precious. :) I ended up liking the second one I ordered even more than the one I discussed a couple weeks ago, so I thought I'd show you guys a picture (I'd model it, but I am waaaaaay too pasty to show my legs to anyone right now). Unfortunately, they are apparently sold out of it now, and no longer have a picture available. Thank goodness I ordered it before it was too late! Once spring rolls around, and I can get some sun, I may post a shot of it for you. I know you'll all be on the edges of your seats in anticipation...
Hilary Duff's Rock
So, if you follow Hollywood at all, you know Hilary Duff's (you might remember her as Lizzie McGuire) hockey-player boyfriend proposed recently, and presented the former Tween Queen with a MILLION DOLLAR rock. It's just a little obscene, to say the least. My mom made a good point - where in the world can she actually wear this thing? I mean, the paparazzi has (or is it have? Is paparazzi plural?) caught her in a few different locales sporting the skating rink, but wouldn't you be terrified to cart a cool mil around on your hand? And she's just a little thing. I seriously doubt she could beat off a mugger, unless it was a 9-year-old...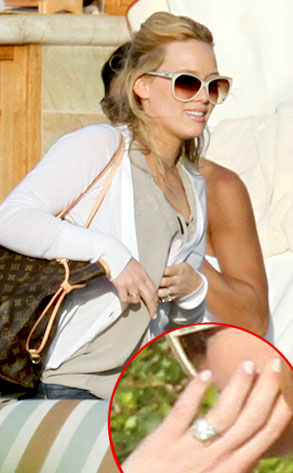 Further, I think it's a little distasteful to be spending that kind of money on something as frivolous as a ring. I love jewelry - A LOT - don't get me wrong. But, we have people starving all over the world, Haiti is in ruins, and our economy is in the toilet (don't get me started on federal spending...). Couldn't they do something better with that money that spend it on a fatal hold-up waiting to happen? Did he also spend a mil on the bodyguards that will invariably have to escort Miss Duff everywhere she goes from now on? If nothing else, he could've at least sent me $130K of it so I could pay off my student loans. Hmph...
Abercrombie Hotties & Notties
Abercrombie & Fitch is being sued - again - for discriminating against applicants. Apparently, the company would not hire a Muslim girl because she chose to wear a hijab, and that contradicted the "image" that Abercrombie is trying to portray through it's cookie-cutter, "beautiful people" employees. Other discriminatory acts - forcing a guy with a prosthetic arm to work in the back so customers wouldn't see him, and advising against hiring any form of minority.
I think Abercrombie's behavior is utterly atrocious, but the Jezebel article on the lawsuit kind of gave me a warm and fuzzy feeling. See, I worked for Abercrombie when I was in college. So, if Abercrombie really will only hire beautiful people, somebody out there must think I'm a hottie. Or, at least cute enough to fold six billion sweaters and endure unnaturally loud music for hours on end during the Christmas rush. Yay me!
My Life As Liz
If you're not watching this hilarious MTV series, you should be. And if you are, please answer this for me: Is this a reality show? Or a sitcom? Or a reality/sitcom hybrid? There's a lot of confusion out there regarding the existence of Liz Lee, Sully, Taylor, Cori Cooper, and the whole gang. I want to know if I could actually find these kids if I elected to venture out into Middle of Nowhere, Texas...
---
Alright. It's back to work for this girl, because that's what I do (sort of). Here's a video for your enjoyment, because I just can't get enough of Lisa Lisa & Cult Jam. Until next time!
(NOTE: Photos above were stolen from NBC Sports and E! Online, respectively.)