Yo, yo, yo! It's RANDOM THOUGHTS time! Woot! (Wow, that was scary...)
Not out of the woods, yet...
Thought the stomach flu was done. But, not feeling so great now. Not sure if it's flu remnants, or the stress of my ever-awesome job that's getting to me. Time will tell, I suppose.
BUY A SHIRT!
I've sadly only sold like 19 T-shirts for the
Ronald McDonald House
. Pathetic. I sold 60 last year. Help me save face, please! Buy a shirt today!
It's NOT just me!!!
Check out this
Jezebel article
on Little Miss Perfect! This kid, Jayne, was on the E! show for the second time on Tuesday. She's a riot! But, she got the stomach flu (honey, I feel your pain), and couldn't finish the competition. I am still fuming because Pageant Director Michael Galanes gave her crap at the end of the show, saying she should've gotten over the fact that she was throwing up and performed anyway. What a jerk. She's 6! And was sick! This is the kind of warped attitude that gives pageants a bad name... (Along with the psycho parents and prostitute-inspired clothing and makeup, that is.)
Spring has Sprung!
Here in the south it's in the balmy 60s. Supposed to hit the 70-something mark soon, too! Yay! It's raining and nasty, and there are tornado watches all around, but I'll take it! Goodbye miserable cold! HELLO SPRINGTIME!! Don't forget, by the way - we spring forward on Sunday. I'm sure I'll be super late to work on Monday. Well, later than usual, anyway...
Money - That's what I want
I am B-ROKE. And there are so many things I want to buy! I wasn't ever able to remedy my issues with Bill Me Later, so I didn't get the laptop. And, eShakti.com has a million new dresses that I want, but NO SALES in sight. AND, Vera Bradley designed this little treasure: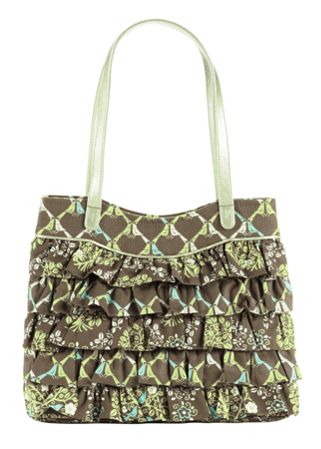 Hard to tell in this pic, but that's "Sittin' In a Tree" - my new favorite pattern. Since they're offering the matching wallet for only $15, for a limited time, I may have to splurge on this one. Hey, that's why God invented VISA, right??
It's coming up! And the lineup is incredible. I SO want to go! More than anything! But, I don't want to go by myself. Unfortunately, I am the only one of my friends who thinks camping out for 3 days amidst a bunch of drunken buffoons to hear a bazillion (AWESOME) bands is a good idea. Looks like I will not be making it this year, either. I'm trying to muster up the courage to just say Eff it! and go by myself. I could sleep in my car. I mean, how in the WORLD can I pass up this group??? (Click on the picture)
So - any of my wonderful readers out there want to join me? :)
How's that for timing??
As you all know, I got my bar exam application in ON-TIME last week. (They cashed my check a day later - damn! Don't waste any time, do they??) However, thanks to the holdup in Washington over the Federal Budget, the extension of the Credit program on which I primarily work has not been announced. From the sounds of it, they will make it official in the next couple of days, and applications for the $5billion of federal tax credits will be released in April or May. Making them due in July. What's also in July? You guessed it! The Bar exam!! Understand, these applications will require 80-100 hours a week of my time in the weeks leading up to the deadline. So, I'll probably be a little (read, OVERWHELMINGLY, INCREDIBLY, MISERABLY) tired. Not exactly the best way to go into a life-altering exam...
Well, duty calls. Must get back to work. Hasta manana. Happy Thursday!
---
Enjoy one of my favorite Bonnaroo artists performing one of my favorite songs! (Maybe this will persuade some folks out there to get a group together and go. Hint, hint...)