Let's all pretend it's still Thursday, shall we?
Made it to the
Soiree
last night (albeit after getting lost and arriving more than a little late...), and had a great time! There was a silent and a live auction, which served to make me wish (more than I already do) that I was rich. It's crazy to watch people haphazardly throw down thousands of dollars like it's nothing. Shit - I can barely pay my power bill! But, I did get caught up in the "fever" and raise that temptress of a bidding card in order to sponsor a family of four, so they can go to the Museum any time they want for a year. A hundred dollars well spent, I guess...
There was a great turnout and I think the Museum raised a lot of money. It was fun! I can't wait for the First "Birthday" Party they are throwing this summer. More black tie goodness with the Children's Museum of the Upstate!
My eyes itch, my throat hurts, and my car is yellow. Damn you pollen!
'Nuf said.
So, I've been watching Ugly Betty since it started several years ago (I'm too lazy to look up just how many). Sadly, it is going off the air next week. :( I will miss it! Mainly because Mark and Amanda are SO funny. A special salute goes out to Mark, as he went with the Duckie Dale look for Hilda's wedding. It was subtle - but awesome. I wonder how many people caught that...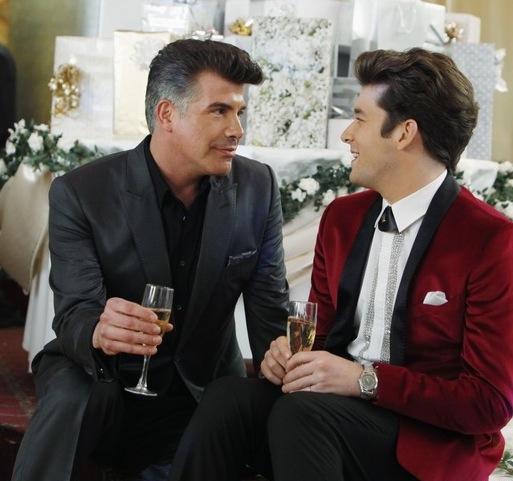 <--- Mark
Duckie --->
"May I admire you?"
Silly Government! Timeliness is for competent people!
So I've alluded to the fact that I deal with Federal tax credits. Well, the government announced yesterday that the credit I work with most has been released, and applications for allocations of those credits are due JUNE 2. That's six weeks from now, folks. Normally, you get 3-4 months. They take roughly 350 hours to complete. We may prep as many as 10 of them. There are about five people prepping. You do the math.
If I'm not around that much in the coming weeks, you know why...
I get 10 free song credits per month with my Zune pass. Here's what I'm buying with them this month (so far):
Breakeven - The Script
Ultraviolet - Luke McMaster
Foundations - Kate Nash
Golden Skans - Klaxons
Lost Coastlines - Okkervil River
Captain America - moe.
Float On - Modest Mouse
I need three more. Any suggestions??
As aforementioned, my life is going to suck for about six weeks - from yesterday on. So, I can't make it to see Deac this weekend. Because he's the generous sort, he's en route to visit me instead, so that I might also get some work done while we hang out. But, this thoughtful compromise comes at a price. I have to accompany Deac to the local amusement park tomorrow.
Something you should know about me - I HATE ROLLER COASTERS. I am NOT a thrill seeker, by any means. It's dangerous enough that I live in my own body! I'm surprised I'm still standing with the way I drive. And walk, for that matter... I will jump a crazy horse over a 4-foot fence, but that's as far as my risk-taking goes.
Yet, I agreed.


Amusement parks have some redeeming qualities, however. Funnel cakes, for example. And Dippin' Dots. And Cotton Candy. So, while Deac is riding this:
I will look like this:
And I told Deac he has to win me some lame carnival prize on a game of some sort. I'll report back on his success (or failure)...
Alright - off to the rest of the day. Hope you're all FABU!
Love and Rockets! (I really hope they bring back My Life as Liz, btw...)
K
---
A sampling from the playlist. Enjoy!!
---
PS - Welcome new followers, and thanks for following! And commenting! You guys are awesome! :)