My, Oh My, peeps - has this been a crazy couple of weeks! (That almost rhymes.) I thought about debriefing you all on the myriad of events that have taken place since I posted my masterful mixes last week, but then I realized I'd prefer it if you all kept reading my blog. I still want to tell my story, but I figure since the average blog reader has the blogging attention span of a pre-schooler (or, maybe that's just me), it might be more entertaining to tell my story in pictures. You can interpret them how you like:
(Oh, I will tell you that the GORGEOUS baby boy is my new nephew Logan - born last Thursday. He's perfect!)
(And - some of these pictures come right out of email conversations between NewB and me, which often contain funny images that sum up our goings on.)
(Disclaimer: All of the following images are stolen from other sites. Thanks to Allie at Hyperbole & a Half and all the others from whom NewB and I pilfered.)
---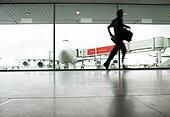 ---
Me:
Blah, I am just terrible today…
---
Figure 2: Life worth living
Figure 3: Soul crushing disappointment
---
---
I'm guessing figure 2 is me and you and figure 3 is just you now?
Here's a couple for you
J
---