Alright, alright. I know. I'm well aware of my shortcomings - specifically my inability to follow through on ANYTHING. The Happiness Project? (See:
Back in Black
) Yeah... It's no more. At least for now. I had the epiphany that it was going to be damn-near impossible to embark on a year-long journey to a euphoric state of happy bliss when I am TOTALLY. UNBELIEVABLY. BURNT. OUT. I think I probably need to deal with that before I dive in to life improvement, don't you?
So, I'm now undertaking Dr. Frank Lipman's (check out
Spent? End Exhaustion and Feel Great Again
) 6-week program to recover from the diabolical disorder he coined "Spent". And ladies and gents, I AM SPENT. Boy-howdy am I spent...
The Six-Week "Revive" Program entails the following:
Week One: Nourish
Week Two: Move
Week Three: Adapt
Week Four: Release
Week Five: Balance
Week Six: Sustain
Doesn't sound too hard, right? (Well - except for that whole "moving" thing. We all know how good I am at actually exercising...) I would be more than thrilled to focus on rebuilding my immune system, learning to go to bed at a reasonable hour, and even moving my lazy ass from time to time, if weren't for one thing: in Lipman's mind, "Nourish" is synonymous with GIVING UP SUGAR. And don't just mean giving up the half a bag of marshmallows I've historically (and regularly) consumed in one sitting. I mean giving up ALL sugar. Lipman suggests cooking hot muselix sans sweet and using agave syrup in place of white sugar, brown sugar, raw sugar, cane sugar, or basically all sugar of any kind.
I think that's a load of horse-doody. NO WAY am I going to be able to give up sugar completely. But, I've resolved to come pretty damn close...
Thank God I'm at least allowed to have fruit. But people, in case you wondered, fruit is NOT a cookie. It is NOT a piece of fudgy cake. Nor is it a candy bar, a brownie, a handful of Pretzel M&Ms, or my most recent obsession - a thick, creamy milkshake. It's fruit. Boring, lame, unsatisfying fruit. Sigh.
Lipman says that the first three days of the sugar detox are the worst. I have headaches, lack of concentration, and hunger pangs to look forward to. Joy. But the person I feel the worst for isn't actually myself - it's Boss-Man Jr., who made a surprise visit to work on some clients with me and Boss-Man Sr. He gets to witness the hysteria and pure evil that are apparently going to start spewing out of me in about T-minus-12 hours. Poor, poor BMJ. I've already preemptively apologized for anything I might do or say during his short visit to the Sunny South. Let's hope I don't get fired...
Well kids, off to make some appetite suppressant tea and watch Brenda Leigh - another woman who knows the pain of sugar withdrawal. God love her.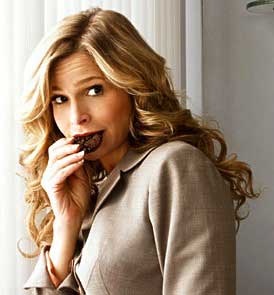 If I survive Day One, I'll regale you with my Trash Talkin' about Saved by the Bell's extraordinarily unrealistic and age-inappropriate relationships. I know you can't wait.
Hasta,
SS