Yep, that's right! I'm baaaaaaaaaaaaaaacccccccccccckkkkkkkk!!!!!!!!!!!!!! I know you guys missed me terribly, and please know how much I've missed you! Some of you (well, some of those of you who might actually still follow my lonely little blog after my month-long hiatus, that is) may remember that I just undertook the miserable feat of sitting for the DREADED...
...wait for it...
Can't promise anyone that I passed (especially in light of my prior academic glory - see:
Trash Talk Tuesday
), but, I DID survive. That's something, right?
I have the Multistate Professional Responsibility Exam this Friday, and then I'm done with this crap - hopefully forever. I will find out the results of the bar, the MPRE, and the last section of the CPA exam on roughly the same day (somewhere around August 28). So, stay tuned - at least for the end of the month. It will either be an AMAZING day, or an incredibly shitty one...
---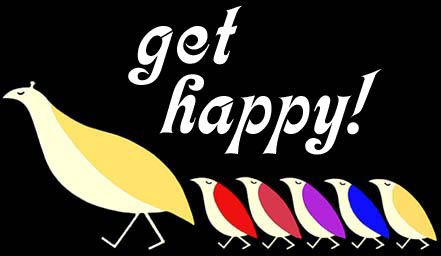 In the meantime, I'm starting a new project. For the next 12 months I present to you an incredibly exciting (though unoriginal) self-improvement project - the Happiness Project (stolen from the book of the same name). Much like the author of this charming memoir, Gretchen Rubin, I will focus on a different shortcoming or goal each month and strive to improve my life, and thereby increase my happiness, by making changes in that particular area. A sneak preview - August, Month 1, will center on energy. More details to come...
---
Alright happy people, I am off to bed. Back to work tomorrow after my 30-day unpaid leave of absence/Studying Extravaganza. Ugh...
But, before I go, a salute to all the people and things that got me through one HELLUVAN exam:
The fine folks at MicroMash and Bar in a Flash. Love those guys!
Microsoft OneNote
My dear friend Senor P - for sneaking me those PMBR lectures. They saved my butt!
The nut jobs that dreamed up this gem:
Law & Order SVU and the Closer. (Win the Emmy, Kyra!!)
My now ex-Roomie - the Intern.
Deac, especially for my delicious celebratory dinner last night.
AC/DC
This song:
My wrist-brace, Bengay, and BioFreeze.
My laptop, which functioned ALL the way through the race that is the state essay portion.
My dear friend Professor E.
A lot of prayers from all around.
The spacious suite at my ghetto hotel at the test-site, and the delicious salad at the restaurant next door.
The view of the horse park that made me want a pony.
Coffee and Adderall.
This cat:
My bed.
And last - but absolutely not least since I'd probably be dead or in a padded cell right now without them - everyone out there who believed in me. You know who you are.
All of my love and devotion to all of the above. You truly are my Sunshine.
LAY-TUH!